Plumbers have a wide range of responsibilities. Some plumbers specialise in one particular area, while others will offer a full service to multiple industries.
What do plumbers do?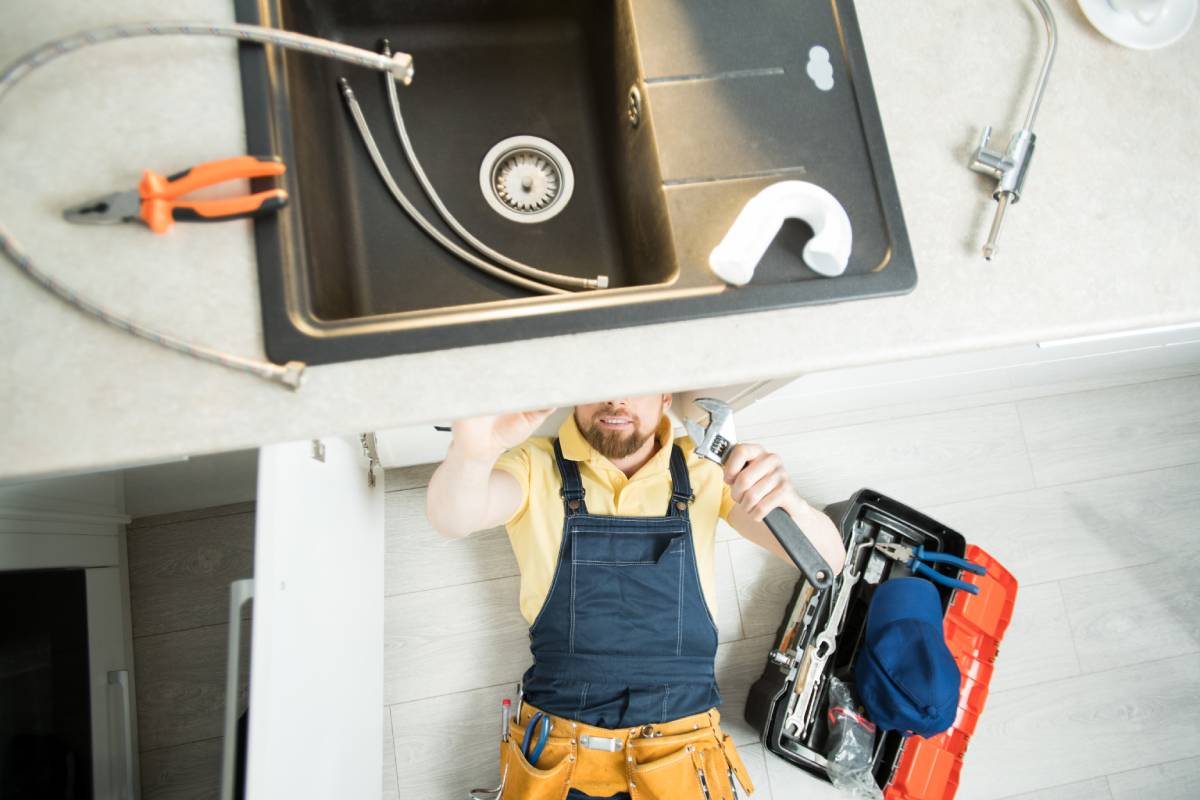 Plumbers have a wide range of responsibilities. Some plumbers specialise in one particular area, while others will offer a full service to multiple industries. Here's a quick look at the various types of plumbers, including the common responsibilities of the average plumber:
The different types of plumber
Commercial plumbers: commercial plumbers perform their duties in commercial settings, such as schools, hospitals, and restaurants.
Service and repair plumbers: service and repair plumbers typically specialise in your general maintenance and repair tasks, often in both commercial and residential settings.
Residential plumbers: residential plumbers specialise in installing, repairing, and maintaining all manner of fixtures in a residential setting.
Sanitary plumbers: sanitary plumbers specialise in working on sanitary systems, installing toilets and bathroom pipes, unblocking drains, and so on.
Water supply plumbers: water supply plumbers specialise in all things water supply related, such as water tanks, overhead storage tanks, bathrooms, kitchens, and laundry rooms.
Industrial plumbers: industrial plumbers specialise in working in manufacturing plants and other facilities with heavy industrial equipment.
The common responsibilities of plumbers
Installing hot and cold water utilities.
Sanitation and drainage.
Installing rainwater tanks and lead soakers.
Central heating systems.
Domestic fuel-burning appliances (gas ovens, etc.).
Installing and bleeding radiators.
Designing water and heating systems from scratch.
Cutting and joining pipes.
Servicing systems and fixing faults.
Replacing parts in faulty boilers.
Emergency call-out response.
Fixing burst water pipes.
Installing showerheads and faucets.
Fitting bathrooms / new bathroom renovations.
Fixing leaking taps and toilets.
And so much more.
As you can see, the average plumber has a wide range of responsibilities. In fact, the knowledge that any average plumber has is extensive – and impressive. This knowledge is collected over years of apprenticeship and practical application in the workplace.
Again, some plumbers may excel in other areas and decide to specialise. For example, one plumber may decide that they would prefer to specialise as a heating engineer and work on boilers and hot water systems. Some plumbers may enjoy designing and installing systems and could focus more on pipework. Whereas other plumbers may prefer to get their hands dirty and earn a little more money doing the smelly jobs that most people would much rather avoid (e.g., working in sewage).
What do most plumbers charge per hour?
So, with all of that in mind, how much do most plumbers charge per hour in Australia? On average, you're looking at somewhere between $70 and $100 AUD. That being said, it largely depends on where in Australia you are based. In Sydney, for example, you can expect the hourly rate to be higher at $100 to $140 AUD, with Melbourne falling into the $80 – $90 AUD bracket.
This is for the labour and typically doesn't include any replacement parts or equipment on top. It also depends on what kind of problem you are having resolved.
In addition, for plumbers who are carrying out a brand-new bathroom renovation for you, it is more likely to be calculated on a per-project basis, rather than charging per hour.
Why does a plumber charge so much?
There's a common misconception that plumbers charge too much, but when you consider all of the work involved, it's actually rather reasonable.
The time involved with qualification
For one thing, in order to be a licenced plumber who can legally and safely work in Australia, you must first complete a minimum 4-year apprenticeship. That's a very long commitment and during that time, an awful lot of practical and theoretical learning takes place.
For your health & safety
Not only that, but plumbers deal in health & safety. When you are having a gas appliance fitted, for example, if you want to have the peace of mind knowing that the person taking care of the installation is 100% capable and there the appliance will be installed absent any room for error. The fact is, any mistakes in a gas oven installation could ultimately be deadly for you and your family – as such, you are paying for their guaranteed expertise and regulatory compliance.
Risky and dangerous materials
In addition to the above, plumbers frequently come into contact with harmful materials, such as sewage, bacteria, mould, and toxic chemicals. As such, they must be highly trained and able to take the necessary precautions so as to not get sick – or indeed endanger others.
Plumbing might not seem like a high-risk job, but when it comes to getting your hands dirty and dealing with sewage, it really is!
Emergency & out of hours
Many plumbers are required to work outside of typical office hours. So, while you are at home relaxing on the sofa, plumbers are getting their hands dirty unclogging drains. This is largely why the hourly rate is higher.
As for emergency callouts, these could be in the early hours of the morning or during the Christmas holidays when they could otherwise be at home with their families.
Plumbers need to be licenced and insured
In addition to the labour, you're also helping the plumbers pay for their insurance. That way, if in the event that any accidental damage is caused to your property while a plumber is on the job, you are completely financially covered and won't end up having to fork out thousands.
Plumbers are in high demand
Whenever something is in high demand, it can always fetch a higher asking price. Plumbers are essential workers that will always be needed – come rain or shine – and as such, the service will always be on the more expensive side.
They need to come to you
Fuel isn't cheap – particularly in this day and age – and all of these travel expenses (to and from your home) need to be factored into their cost.
Conclusion
All in all, plumbers are skilled and flexible workers that can keep your water flowing and your home nice and warm during the winter months. While it can certainly feel like a hefty expense, when you hire reputable professionals who guarantee a perfect finish, you'll almost certainly be getting what you pay for. If you find yourself in need of an expert plumber to help with burst water pipes or to fit a new bathtub, you can't go wrong with an established company like Plumbers To Your Door in Townsville.