What Is In A Wedding? How Do You Plan A Simple Wedding? What's A Good Budget? Tips On Having A Simple, Intimate, And Affordable Wedding.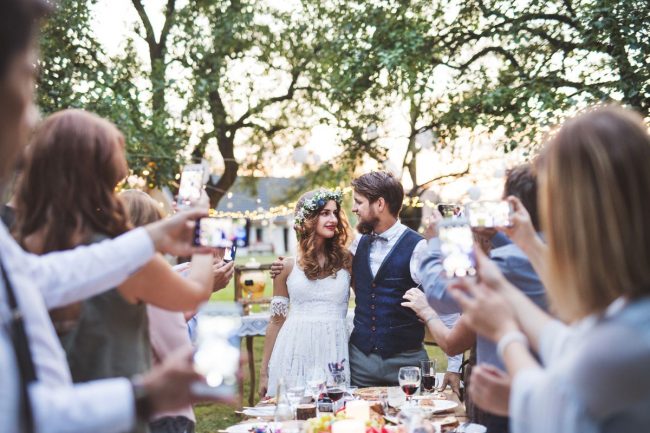 Everybody loves a good wedding, right? You get to see two people that you love and care about tie the knot while spending all day and all night eating, drinking, dancing, laughing, and hanging out with all of your favourite people. But, what about when it's your own wedding?! The immense pressure to make everything perfect can often feel too much for some people. There are so many different things to think about, plan for, take into consideration, visualise, and pull your hair out over that it begs the question: is it all even worth it?
The answer, of course, is yes! It absolutely is worth it. And the best part? It really doesn't have to be all that stressful or complicated if you don't want it to be. This is supposed to be the most important day of your life, so rather than spend the lead-up to it stressing, why not make a stand and choose to enjoy the process instead?
In this article, we're going to answer the age-old question: "what's in a wedding?" What are the most important things when planning a wedding and how can you keep it nice and simple? For those of you who don't want anything overly lavish or pretentious and wish to save your money for a house, holiday, or anything so long as you aren't blowing your entire savings in a single day, then this is the article for you.
What's in a wedding?
So, what is in a wedding? Well, you could argue that all you need are two consenting adults and an officiator to sign a couple of documents—
—Wait, no, that's a marriage.
A wedding is a celebration of love! Those are the two buzzwords: celebration and love. As long as you plan a day that facilitates some form of celebration and allows you to declare your eternal love in front of your favourite people, that's all that matters.
As for the actual wedding ceremony itself, it depends on you. If you are religious and want a traditional ceremony, it will vary depending on your faith. As an example, for a traditional western Christian wedding, you can expect the ceremony to proceed as follows:
The processional
Words of welcome
Intro
Readings
The officiant addresses you and your partner
You exchange vows
You exchange rings
You kiss
Closing remarks
The recessional
And voila! You're officially hitched!
Most cultures celebrate marriage in a very similar way and the wedding ceremonies tend to follow a relatively close structure with their own cultural twist. For example, a Jewish ceremony will incorporate several different things, including the Mazel Tov (breaking of the glass); a Hindu wedding the Agni Poojan (the sacred fire is lit); a Catholic wedding ceremony, a passage from the gospels; and so on.
But remember, this day is all about you. So, if you do not associate with any particular religion, or even if you do but would prefer to put your own spin on things, you can do things your way. There is no law stopping you from dressing up as ghosts and eating a ceremonial cupcake before you exchange rings. It's entirely up to you!
How do you plan a simple wedding?
How do you go about planning a simple wedding? You'll be pleased to know that it's rather straightforward. All you need for a simple successful wedding is:
A nice venue: you don't have to hire a castle if you don't want to. Some people opt for hosting their weddings in their back gardens. It's entirely up to you. If you have somewhere special in mind, great, otherwise, your options are practically endless.
An intimate guest list: you don't have to invite every single person you've ever met. As long as the most important people make their way onto your guest list that's all that matters.
Some great catering: what is arguably the most important aspect of your wedding (particularly for your guests), is the food! If you're going to have a budget wedding that's fair enough, but don't skimp on the cuisine. Wedding caterers Dining Abode are a fine example of some top-tier wedding food providers! You must keep your guests well fed during a long day of celebrating!
A little entertainment: since a wedding is a celebration of love, it's important to have a little entertainment for the evening's escapades. Whether you hire a band to perform or simply pay a local DJ to spin some classics for your granny to vibe to, be sure to provide your guests with some form of relief.
A cake: what's a wedding without cake?!
And that's about it…
Depending on how lavish you want to go, you can add so much more to your special day. However, if you want to keep it simple and affordable, you don't need to go all that crazy. What's most important of all is that you do it your way. Do not feel obligated to make your wedding about anyone else other than you and your betrothed. Your parents may well have had big plans for your wedding when you were a child, but this is your day, not theirs.
What's a good budget for a wedding?
The average cost of an Australian wedding is somewhere in the region of $54,000! While that sounds like an extortionate amount, you don't have to follow suit. This number is likely to include a guest list of some 200+ people, 3-course meal catering for all, a lavish venue, bottles of wine and champagne on each table, and so much more.
Again, you can plan your marriage for a fraction of that cost if you want. In fact, you can easily enjoy a truly special wedding day for somewhere around the $10,000 – $15,000 mark – or less if you are set on a simple and intimate celebration.
Whatever you decide, we hope that this article has filled you with some inspiration. All of the best to you and yours and may you enjoy many, many years of healthy, happy, and fortuitous matrimony.